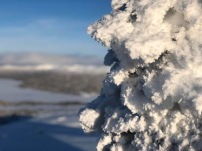 The origin of NUDUD were the harsh winter conditions of Scandinavia, where as the temperature drops, gloves and mitts get bigger bulkier and more insulated. Using a touchscreen is increasingly difficult and you end up taking them off in the freezing cold to do "your thing" on the phone or navigator. Sometimes complicated by an added watertight sleeve to protect the equipment again snow and rain. In essence, we found that existing touchscreen solutions did not work well enough when you need them most.

Since the original problem, NUDUD has evolved to suit a variety of other real life needs and situations, from firefighting to luxury, from work to play. So when taking off gloves or mittens to handle a touchscreen is not an option - for either protection, safety or comfort reasons, just contact us.
This short video below is one example of the precision we can achieve on a thick pair of winter mitts, where maneuvering the touchscreen is not a problem.
We work together with glove brands to integrate our knowhow in their design process, to achieve a touchscreen precision solution that suits both their needs and glove philosophy. Whether your gloves are for work, play or just for everyday, which is your NUDUD situation where taking the gloves off is not an option?